This is IT
monitoring and management
done right
Get the full picture and respond quickly to issues. Patch management, remote control, network discovery, all built into one beautiful and easy-to-use solution.
GET STARTED IN NO TIME
Got a minute? That's how long it takes to deploy and install a powerful, yet lightweight agent on all of your devices.
Within minutes you are provided with detailed information about your IT environment.
REGAIN CONTROL
IT administration is complex but we make your job easier. Automatically discover devices and services in your IT environment. Remote install applications and run scripts. Everything you need in one comprehensive tool.
KEEP EVERYONE HAPPY
Downtime is unacceptable. Panorama9 foresees problems so you can be proactive instead of reactive. When things do go wrong you are notified instantly and can take action before your users notice anything.
SECURE YOUR ASSETS
Your security is only as strong as the weakest link - we'll tell you where that is. Plus we update your machines automatically, track lost assets, spot suspicious network traffic, and keep everyone safe.
YOU'RE IN FOR A BLAST!
Here are 4 laser sharp reasons why you should join!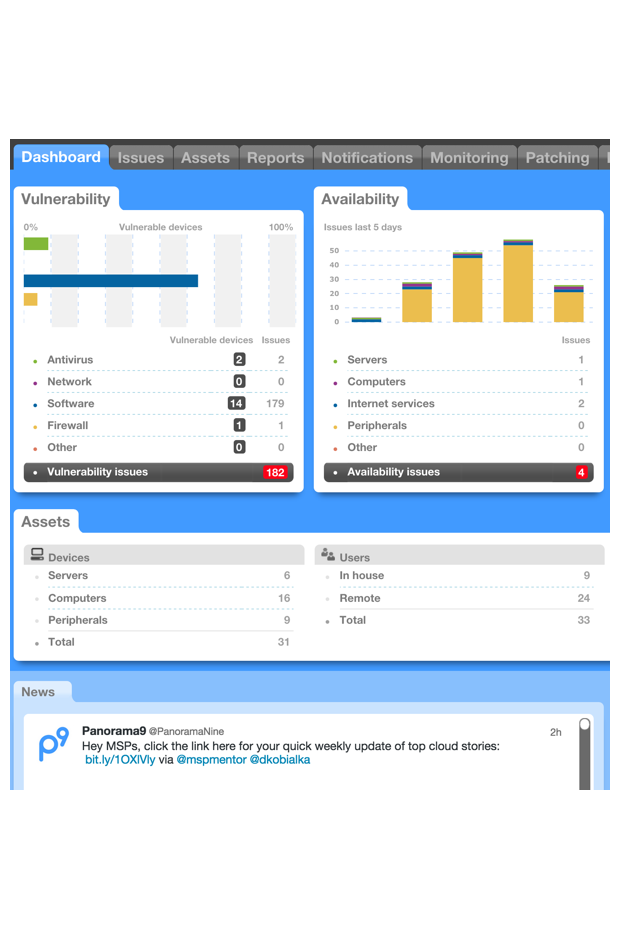 Quick start
Be efficient
Unlike software or appliance solutions that take months or years to deploy, Panorama9 can be up and running in minutes.
Install the lightweight P9 agent on one of your computers and deploying to other devices within your IT environment can be done automatically. Remote users and their computers can also easily be included.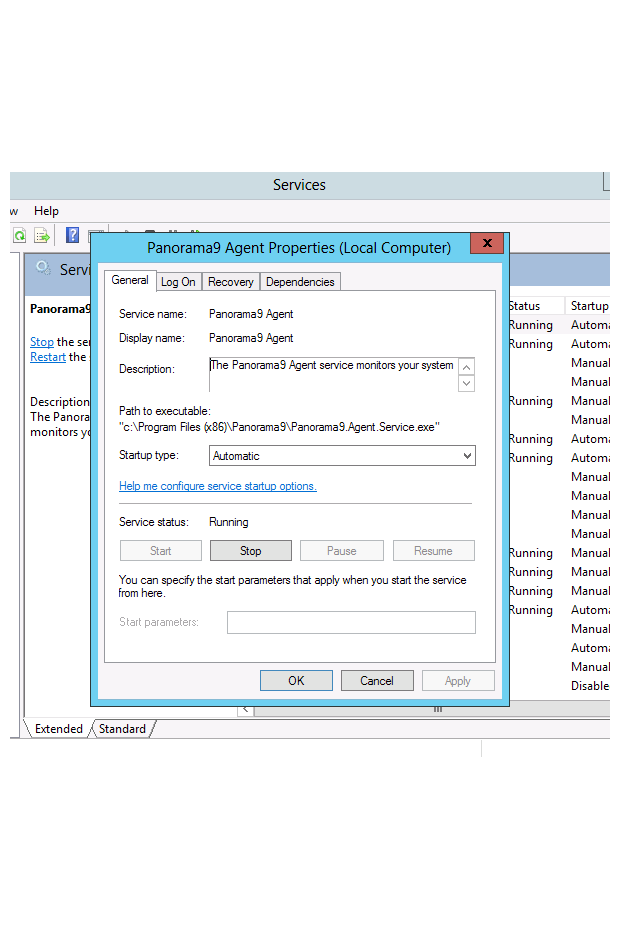 Maintenance free
Save time
We assume the responsibility for updating the P9 system. You can then continue to be efficient and focus on what matters most.
Devices within your IT environment with the P9 agent installed will regularly check if an update is available. Installation of the update is done automatically and silently in the background.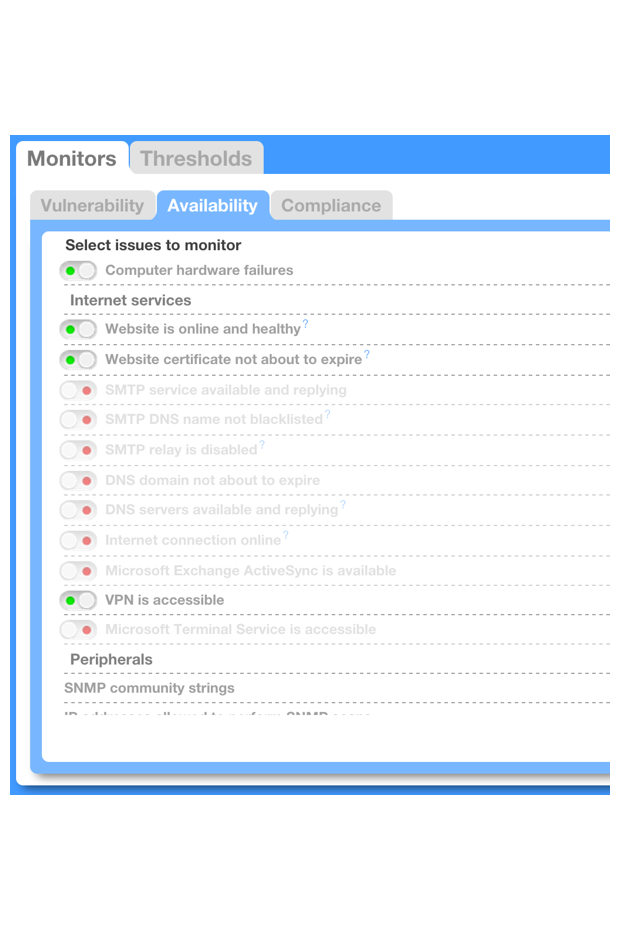 Sane defaults
Continued value
We know what it's like to monitor and manage devices that are constantly moving around, being updated, or having their configuration changed.
The P9 agent will automatically spot changes and if anything seems out of place, you are instantly notified through email or any of our many integration options.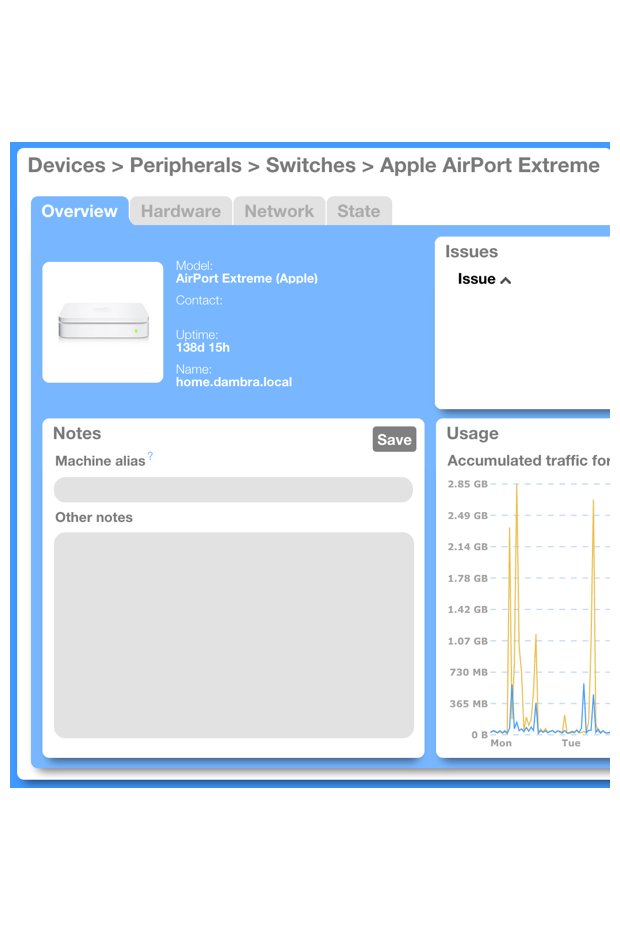 Network discovery
The full picture
Your network is full of printers, switches, storage solutions, etc. that users requires to be online and working. P9 will automatically spot and include them.
Complicated configuration instructions are not needed. We will detect the type of device and then ensure relevant metrics are extracted and analyzed.
HARD FACTS
We love data and numbers. Here are some of ours
10min
and you will have a complete analysis of your computer.
4MB
network traffic generated daily by the P9 agent (on average).
3952
daily health checks against each device (on average).
365+
days of detailed history stored in the cloud at least a year back.
PRICING
To understand what we offer, you need to try us! Once you've signed up for an account you can select a package that fulfills your requirements. Then, see just how small of a fee is needed to save big on managing your IT environment.
You want the full picture of your IT environment. You need to see and get warned about discovered issues. Just not ready to trust us resolving the issues. You don't want us to patch vulnerable devices or use the built-in remote control tool.
TRY NOW
You are tired of multiple tools, software packages and services that all require attention. We will offer you every needed Remote Monitoring and Management tool, so you can focus on what matters most for your company and its users.
TRY NOW
As a Managed Service Provider you insist that your hard earned clients receives exceptional service. You will not tolerate their network being down and you not knowing it. Your tech-people must have the tools needed to quickly remedy issues.
TRY NOW
You have a 30-day free trial. Before the trial ends, we will give you the option of continuing on a month-to-month basis. If you choose not to proceed, we will simply cancel your account login.
TRUSTED BY THOUSANDS OF CUSTOMERS!
Whether you are managing 10 or 10,000 computers across multiple locations
Panorama9 can make your life easier. Word up!

Alex Perez, Systems Analyst, Control Group
Panorama9 is easy to use, makes us more productive, and gives us everything we need to remotely manage our customers' networks.

Panorama9 gives us the information we need, when we need it; hardware serial numbers, software licenses and patch levels etc.

Kelly Thompson, IT Manager, EndoChoice
As we grow and expand internationally, we're confident that we can scale our network and manage all of our assets because of Panorama9.

Jakob Knutssoen, CEO, SoftCom Solutions
The time we save on automated tasks is vast. The best thing is that they can be done remotely.
Contact
Reach out and let us cure your IT headaches
Show Location
GENERAL INQUIRIES

sales@panorama9.com

HQ

795 Folsom Street, 1st Floor

San Francisco, CA 94107

USA

EUROPE

Flaesketorvet 28

1711 Copenhagen V

Denmark